E-Waste Recycling
Trashing E-waste is Not A Good Idea
Electronic waste should never be thrown away. It contains valuable natural resources that can be recycled and also contains hazardous materials that can harm you and your environment.
What does the District do with the items collected for recycling?
The District sends all the material it collects to eSCO Processing and Recycling, LLC in Rogers, AR. It is one of the most trusted providers in electronics recycling with over 40 years in the recycling business. eSCO prides itself on providing customized programs for all e-waste streams in compliance with their zero waste landfill policy. This is achieved by disassembling all e-waste that enters their facility to the most finite of commodities to eliminate the production of waste.Their current certifications include,e-Steward,ISO 140001 and they are a Microsoft Registered Refurbisher. They are members of ISRI, the Arkansas Recycling Coalition and the Southeast Recycling Developement Council.
Are there any costs involved ?
The District currently does not charge to recycle e-waste, that could change in the future. The Sebastian County Solid Waste District will have your E-waste legitimately recycled.
What kind of E-waste do you accept?
Computers, monitors, cell phones, printers, copiers, scanners, fax machines, typewriters, laptops, flat screens, VCR's, DVD players, cords, cables, digital cameras, UPS systems, tablets and televisions 35″ and less.
Can I put my E-waste in the regular trash?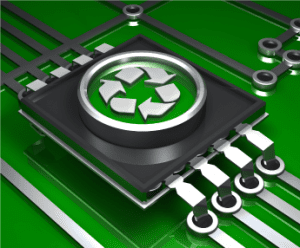 PLEASE DO NOT put it in the regular trash. The City of Fort Smith Landfill, discourages the dumping of E-waste in your household trash.The District strongly encourages households to "Do the right thing" and make the effort to recycle their E-waste. There are e-waste drop off locations in all parts of the county.
Where can I take my E-waste to be recycled ?
The Fort Smith Landfill, @ 5900 Commerce Road, Davis Iron & Metal, @ 2610 Wheeler Ave., the Lavaca Recycle Center @ 904 North Davis, the Greenwood Recycle Center @ 104 Bell Road, the Mansfield Recycle Center @ 601 East Center and the City of Barling Public Works Dept. 304 Church Street, Yaffee Iron & Metal @ 719 Wheeler Avenue
Where can I go for more information?
For more detailed information on managing your e-waste items or if you are a business, call the Sebastian County Solid Waste Management District office at 479-452-4101.
Please be advised The Sebastian County Solid Waste District, eSCO or any drop off facilities are not responsible for the security of personal or private information contained on electronic devices or hard drives.If you have concerns about the security of your data, please take measures necessary to secure or erase this data from the device prior to dropping off at a facility.